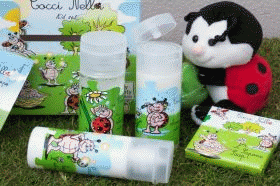 Cocci Nella®: A delicate hotel amenities collection dedicated to little travellers.
The playful packaging and the bottles with flip-top caps will guarantee plenty of fun and safety for kids, while the gentle formulations, enriched with the soothing and refreshing properties of mallow and rice proteins, as well as the nourishing benefits of panthenol, will leave their skin soft and properly moisturised. The kid set features gentle products made from only the highest quality ingredients: three 30ml bottles, one soap and one refreshing wipe, perfect for cleaning and refreshing kids hands when mons are on the go. The soft fragrance and the dense and creamy texture will provide a feeling of natural freshness to the little guests.
Δε βρέθηκαν προϊόντα που να ταιριάζουν στις επιλογές σας.