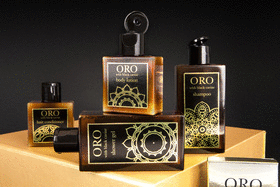 ORO was developed for these hotels that want to dedicate a "One thousand and one nights" stay to their guests, starting from the choice of the best
amenities collection.
The innovative and high performing formulations,
together with the luxurious packaging design, make ORO line a real must-have.
The sophisticated bottles, available both in 35 ml and 80 ml, give to the guests the possibility to choose the most suitable version for their hotel, or to mix the different sizes in order to create their personalized collection. The line is enriched with a 30 g soap, with a precious gold packaging.
Allegrini Amenities wants to create a luxury collection able to astonish, thanks to its design and formulations.
Showing 1–8 of 9 results