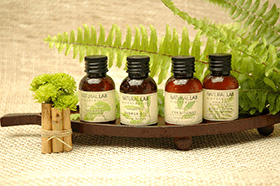 Natural Lab: the best of the ecological and organic lines for your guests.
ICEA (Istituto per la Certificazione Etica e Ambientale or Italian Institute for Ethical and Environmental Certification) is one of the most important organisations in the sector of Ethical and Environmental Certification.
First of all, ICEA's Eco Bio Cosmesi certification meets the need to respect the body's well-being: choosing a certified product is in fact the best guarantee for protecting one's body.
This means using products whose raw materials have been selected following a strict discipline that bases its principles on the concepts of Organic, Ecological, Natural and Ethical.
This is the best choice to make sure that your guests use products that not only retain excellent cosmetic properties, but that are also definitely superior to traditional products in terms of naturalness and well-being.
The ICEA standards, compared to conventional cosmetics, require:
The exclusion of substances that may damage one's health
Total absence of GMOs and animal testing
No use of ionizing radiation for disinfecting purposes
Use of certified agricultural products, in all situations where said products are available
Care not only concerning product formulation, but the packaging as well
Showing 1–8 of 9 results