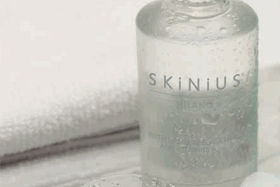 SKiNiUS® is a Research Company in dermocosmetics.
SKiNiUS® products act directly on skin cells to slow down aging process and improve imperfections.
The Company Mission is to create cosmetics able to act in accordance with the physiological rhythms of skin, responding to its needs and speaking the same language in terms of active principles related to natural skin structure.
SKiNiUS® – In English, skin and in Latin ius (right) – is born from the idea of Dr. Mariagrazia Boniardi, expert Biologist in dermocosmetics, after years of study and rigorous scientific research in the biological field.
The first SKiNiUS® line by Allegrini Amenities, is born from the joint-venture between dermocosmetics and the amenities world. The line includes: Shower Gel, Shampoo, Hair Conditioner, Body Lotion and Soap.
Fresh and energizing ingredients created to take care of yourselves, every time of the year.
A real revolution that will enhance the rooms of your guests, an exclusive service to make their stay unique and, above all, to pamper them in the best possible way.
Showing all 5 results