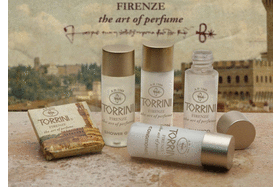 The sense of art. The true added value for the endless search of beauty.
Torrini 1369 jewelry have been a symbol of the Florentine tradition for more than 640 years.
The Torrini's goldsmith historic shop lies in theheart of Florence in Piazza Duomo that along with the Torrini Museum and the Torrini Ancient Manifattura tell the story of the century-old trademark.
Many of the accolades awarded and the images of the many personalities that have worn over the years these wonderful creations can be found there, as proof of their sublime skills emphasized by the trademark with its unsurpassed sense of the eternal jewel.
Working closely with Torrini 1369, Allegrini Amenities has encapsulated the brand essence into a wonderful, beautifully fragranced and elegant Luxury Hotel Collection.
No products were found matching your selection.