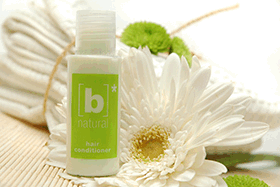 B natural: the Ecolabel-certified amenities line, symbol of our GoGreen philosophy.
A hotel amenities line formulated, tested, produced and packaged in compliance with the strict Ecolabel regulations, to guarantee the lowest environmental impact, with the same quality.
The modern and attractive graphics give these products a trendy look, in addition to being made using raw materials of plant origin, which guarantee the highest level of environmental sustainability.
Showing all 4 results