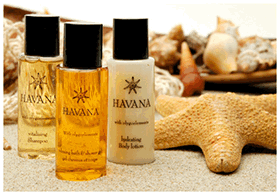 With its toning and healthy aromas, inspired by thalassotherapy, the Havana hotel amenities line consist of products recommended for fighting stress and fatigue.
All the benefits of a therapy that dates back to ancient times, a concentrate of ten trace elements, highly moisturising and remineralising at the service of your guests, so that they can benefit from a slash of energy.
The particular olfactory note calls to mind colonial scents, making Havana a line with exotic references. The line features a detailed packaging with a colonial style.
Showing all 5 results