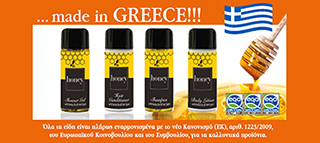 Despite the adverse economic and business situation, KSD continues to invest in innovation, undertaking the production in Greece of an excellent line of personal care products for hotels (amenities) with Greek honey as the main ingredient.
The new line, which name is HONEY, is entirely produced in Greece, with the best Greek raw materials and pure, natural ingredients of Greek land.
With honey as the key ingredient, known since antiquity for its unique effects, the HONEY line, offers extra softness, hydration and nutrition to hair and body.
The new «made in Greece» line, which consists of shampoo, shower gel, hair conditioner and body lotion, in a pack of 30ml, is dermatologically tested and meets all the quality standards set by the European legislation, since its products do not contain parabens, silicon and mineral oil.
While talking about the new HONEY line, president and CEO of KSD, Mr. Konstantinos Deriziotis after pledging to create more lines based on pure, natural, Greek products, said: "KSD with the new HONEY amenities line with extracts of pure Greek honey, attempts to bring even closer to Greece and the Greek Tourism, foreign visitors who stay in hotels and other tourist accommodation, offering them extra care and attention. "
The new line, which is added to the rich product range of KSD amenities, is available at competitive prices.