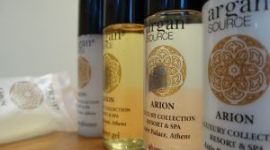 The management of the historic Astir Palace Resort entrusted the reliability, the superior quality and accuracy of KSD in the amenities products market, and the Italian style as well,  selecting the personal hygiene products Argan Source for the hotel complex Arion , a Luxury Collection Resort & Spa.
Thus, the amenities products of the Argan Source line with argan oil – well known for its antioxidant, nourishing, moisturizing and soothing effects and the rich aroma of spicies- in a luxury packaging with the logo of the resort, are available in the rooms of Arion , a Luxury Collection Resort & Spa, offering an extra 'touch' of refined luxury.
The line, signed by the Italian firm Allegrini, which products are available exclusively in Greek and Cypriot market by KSD, includes shampoo 54 ml, hair conditioner 54 ml, shower gel 54 ml, body lotion 54 ml and glycerin soap 40 gr.
KSD is also supplying this unique complex with all the additional, high quality, products (slippers, beauty kit, sewing kit, shower cap, etc.), as well as with the unique non-slip (antislip) flip flop slippers for the excellent Arion Spa.
The CEO of KSD, Konstantinos Deriziotis, while talking about the cooperation of the company with the Astir Palace Resort, thanked the management of the emblematic complex for the confidence shown in KSD, noted:
"After our partnership in social media, KSD having the full management of the accounts of the Astir Palace Resort and Astir Beach, the new cooperation in amenities confirms that professionalism, with all that this implies (quality products and services , reliability in delivery times, etc.), is recognized and rewarded.
We, from our side, promise to continue giving our best to offer excellent services, competitive prices and quality products, honoring the trust of our customers. "