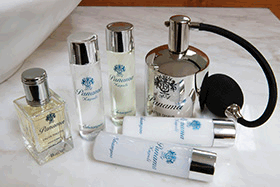 "It was a sweltering hot day … A man was walking along the sundrenched seafront, he preferred walking rather than be sitting in a wheelchair, as he wanted to enjoy the sight of his new city: Naples. As always, he was wearing his Panama hat, a bit crumpled, almost obsolete, but still elegant. It was 1924.
In those years, the barber's profession often went side by side with the perfumer's. And so that man, equipped with nothing else but tools and eau de Cologne, walked across the city. That man was Antonio, my grandfather, to whom Panama 1924 is dedicated".
Michele Boellis
From timeless perfumes created by mixing vanilla with the tobacco flower and the freshness of citrus fruits comes the Panama 1924 perfume, symbol of Italian style.
Panama 1924 is an extremely refined hotel amenities line that represents the Italian tradition and elegance throughout the world. A noble essence that provides a daily gesture with a feeling of endless charm.
www.boellis.com
Showing all 5 results